February 21st, 2010
Our morning on February 21st began with a dilemma. Becky was absolutely in love with the view from the first time I had drawn the curtains apart in the morning. The steeply sloped, yet completely terraced, mountainsides offered a funky geometry and a wonderful contrast to the straight up and down we had seen in Yangshuo. Apparently over the last 400 years the people near Longsheng have been building up rice paddies on every available surface, the effect is a series of what Chinese people call 'stair fields.' Our dilemma came about when our hotel manager said the other people in the hotel wanted to go back to Guilin that night at 5 pm. With this in mind we lost no time getting a head start. We walked briskly up to the 'viewpoint number 1' which offered a breathtaking view of the village we had slept in as well as the fabled one moon and seven stars rice fields.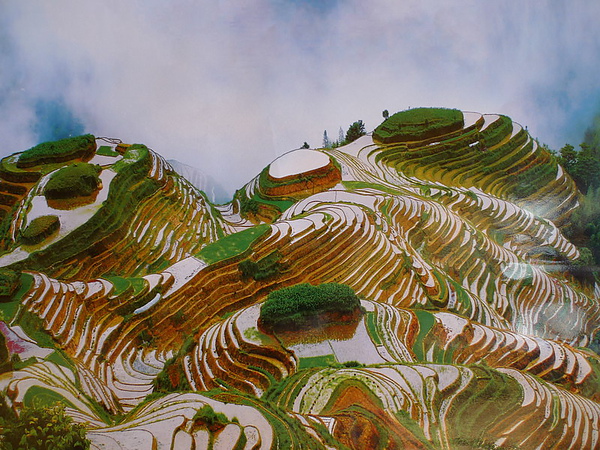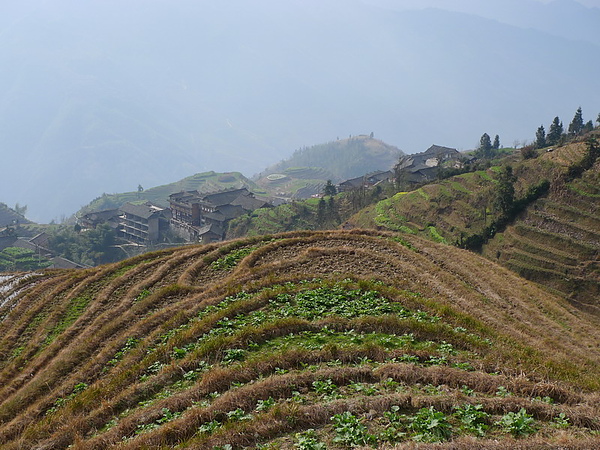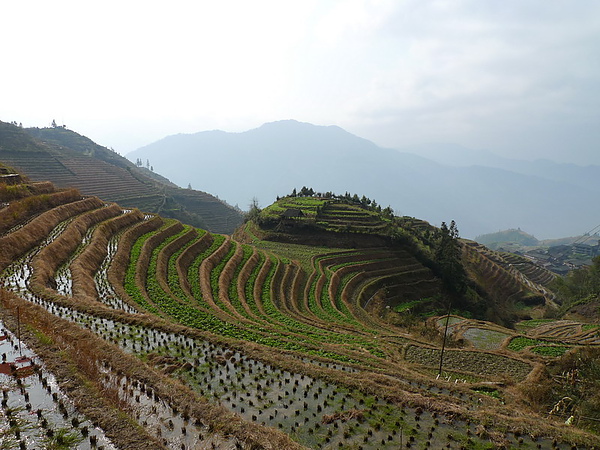 With viewpoint one under our belts we began the 5 hour hike to viewpoint number two. Becky, in high spirits because of the pictures she could take, was taking this idea rather well. In fact, at one point, I wanted to return but it was Becky's stubborn insistence that kept up on track. We followed the signs, the guidebook, and the directions from locals until we came to point where the trail just ended. There was a new road being build and apparently the foot trail was simply torn down. On our way back, to retrace our steps, we passed a group of old ladies dressed in traditional tribal clothing. The old ladies insisted that we wanted to go to Zhong Liu village and then to Dai Zhai village.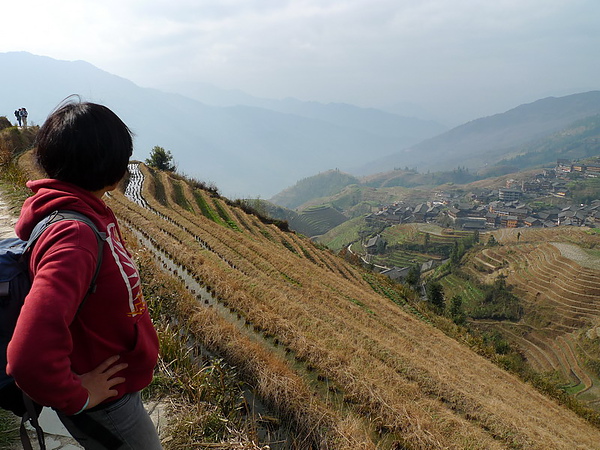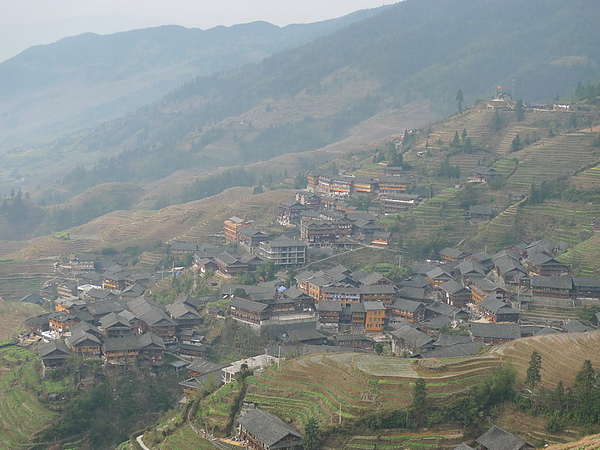 Seeing as Becky was very keen on this idea, I agreed to hire a 'guide' for the day. The old ladies insisted in their sweet murmurings that the trail was very complicated: full of forks and turnoffs. They insisted that if we walked the trail, we would most certainly get lost.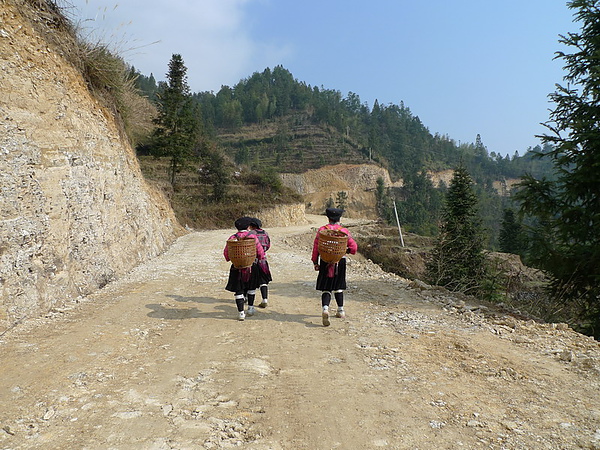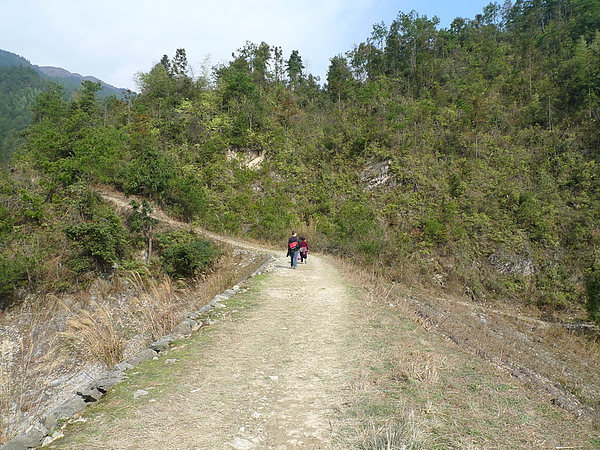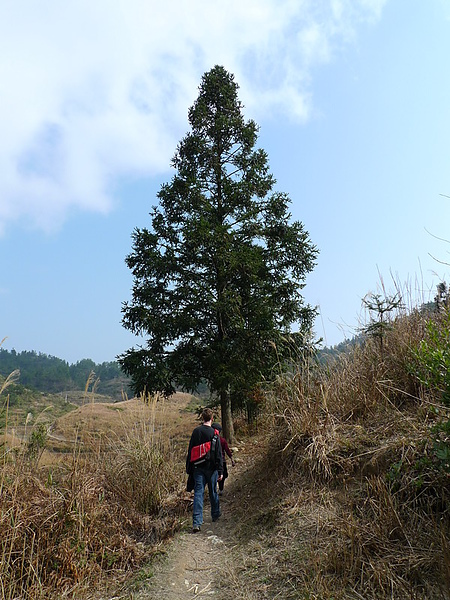 With our 60 RMB guide leading the way we began hiking. The hike was not difficult, in fact it was rather relaxing at times. The weather, again, was perfect. Blue skies, golden fields, and green mountains surrounded us. I even found myself slipping into a Nepal frame of mind. Our trek through the fields from village to village was beautiful enough and all, but I couldn't shake the feeling that we shouldn't have hired the guide. Not only had we walked for about 1.5 hours without seeing a single turnoff, but the road itself was stone-lain and obviously the main thoroughfare between villages.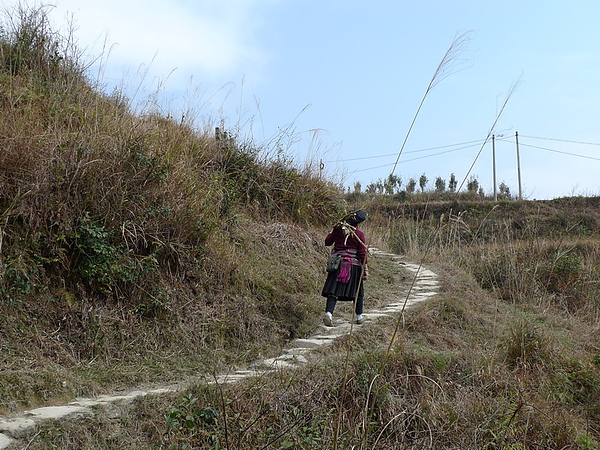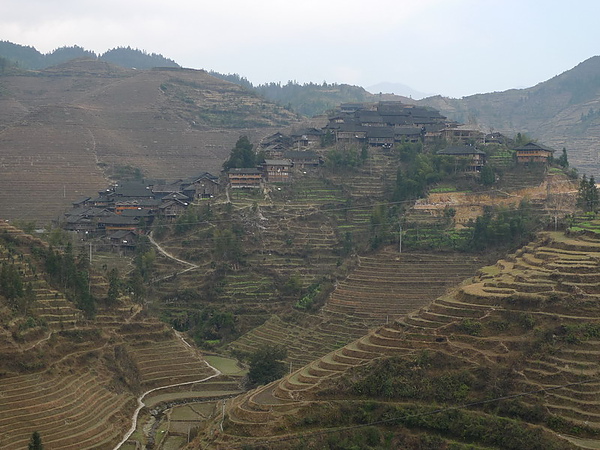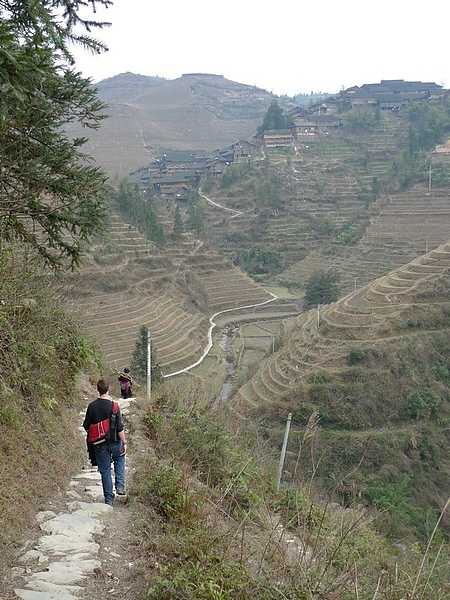 A short time after noon we arrived in Zhong Liu village. Like Ping An, Zhong Liu was comprised entirely of old wooden houses. Unlike Ping-An there were absolutely no tourist facilities here, everyone here was 'real' if you believe that sort of lingo. The old lady took us into her house, offered us a bottle of water and allowed Becky to peruse her 'handmade' crafts. Becky bought a souvenir and successfully convinced the lady that we didn't need to buy EVERYTHING she had. After a short respite in the oddly cavernous house, we headed back out onto the trail.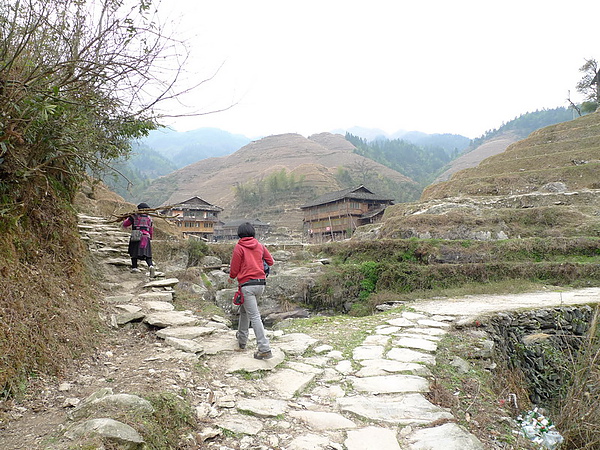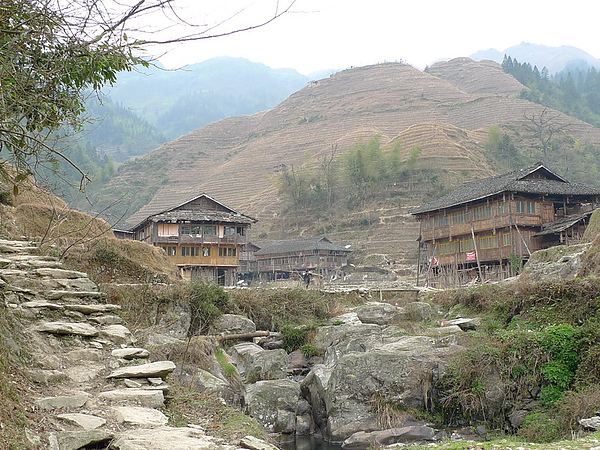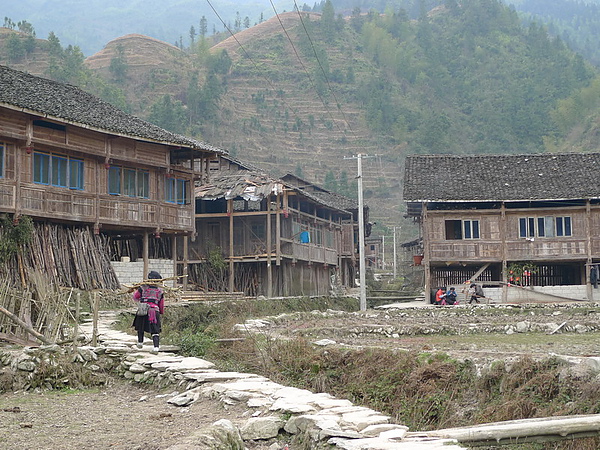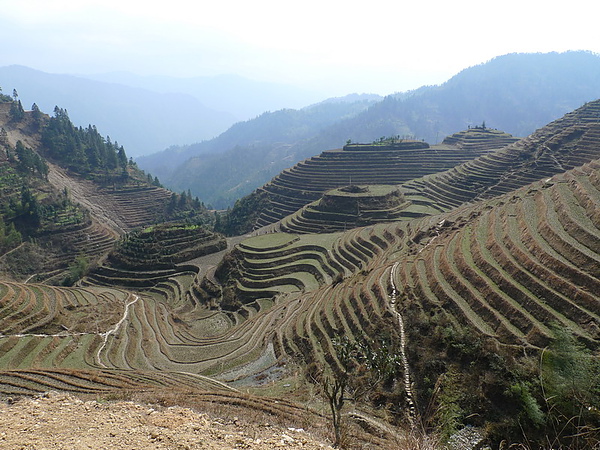 On the final leg towards Da Zhai we ran into an Israeli man who was hiking with his father. He asked me to help him communicate something. Apparently he and his father were being 'tailed' by a local who was making them uncomfortable. When we walked on, though, we found no one. I can't blame the man for being uncomfortable, especially after all my experiences on the trip to date.


As we approached the stairs down into the village our guide stopped and said "you just go down, now give me my money." Now keep in mind that we had already bought one of her overpriced souvenirs and had encountered no forks or turnoffs. We would have had to be blind to lose the trail. In spite of all this, as soon as I pulled out a 100 she grabbed a wad of cash from inside her belt and (without even looking at it) said "I only have 35 dollars, sorry bye." Cheated, flat out cheated by a grandma. It was our own fault for not taking change. In retrospect, I should have given her the 50 in change that I had and said "there were no turnoffs, and you won't even take us all the way." But these things are always clearer after the fact.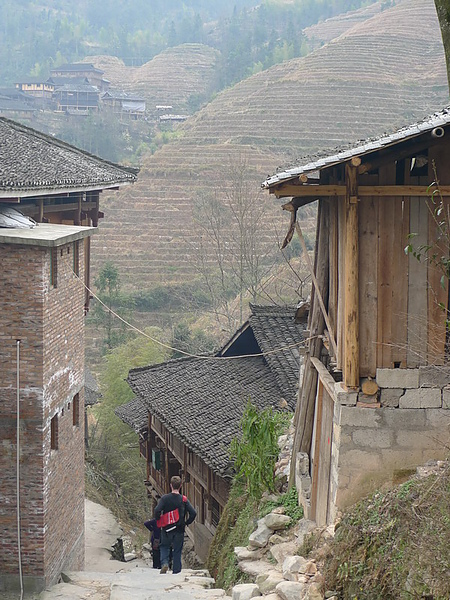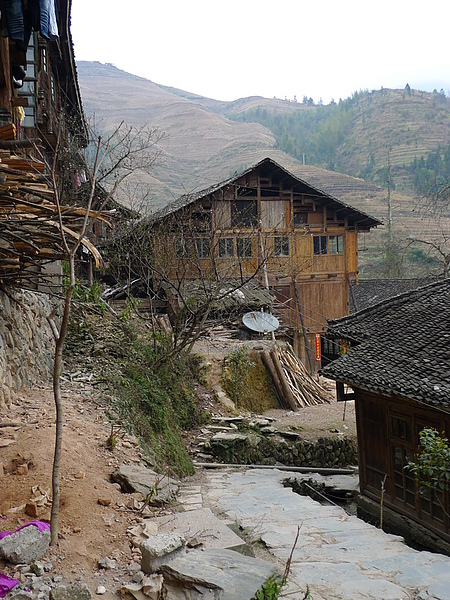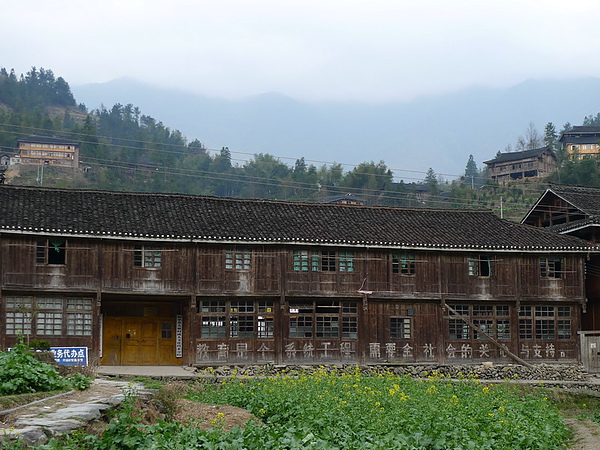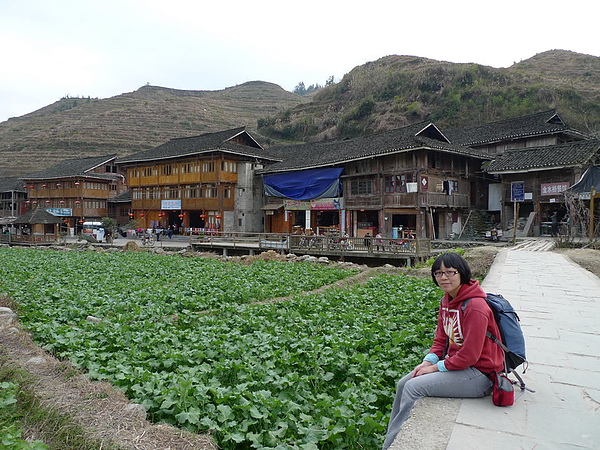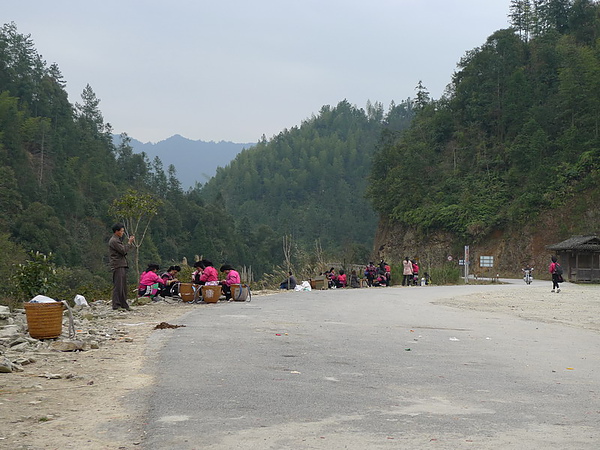 We headed down to the village to take our bus back to Ping An. We, of course, barely missed the bus and had to wait 30 minutes for the next one. We called the hotel and asked them what we could do. They said they would load our bags onto the bus (for the low low price of 40 RMB) and pick us up on the way to Guilin. We decided 40 RMB was a little ridiculous and promptly got on the next bus. We then waited another 5-10 minutes and hopped a bus back to Ping An. We arrived at 4:40, 20 minutes to spare. We jumped off the bus, ready to sprint up 500 meters to the hotel. I went to tell the bus driver to wait for us. I turned around just in time to see an old lady carrying my bag down and saying "40 RMB." Needless to say, not a end to the afternoon.


Once we got back to Guilin we went to the train station to sort out transportation to Guiyang that evening. There were no trains until the next day. We walked (about half a kilometer) to the bus station, there were no buses until the next day. We walked back to the train station. There were no train tickets for the next day. We began to walk back to the bus station (keep in mind we had our bags on this whole time). As we were walking to the bus station, I spotted an unusually tall foreigner walking past us. At the same time, Becky saw a foreigner with unusual shoes walking past us. It was a sheer stroke us dumb luck that we ran into Jay there on the street. We explained our predicament, he explained he wanted to go to Kunming that evening on the train. We explained the packed crowds at the train station and told him 'we're going to the bus station, we'll get our tickets for tomorrow. We'll wait for you there for about 15 minutes, if we don't see you we'll assume you got on the train.' We agreed that this was the best idea. We walked (this is our 4th trip now, by this time I was carrying my bag AND Becky's bag). We bought our tickets for the following day at 9 pm. We waited outside for about 5 minutes. I began to have visions of Jay (who speaks no Chinese) getting pushed around in a crowded train station. I explained to Becky that we should start walking back to the train station (trip 5) to see if Jay needed help. We walked, again. We got about 90% of the way there when Jay came walking up toward us. He also had a ticket for the next day. Now with a third companion we started walking toward the same hotel we had the first night in Guilin.


At the hotel we found that they had no dormitory, but could give us 3 bed-room for 140 RMB. We decided it was a little too pricey and headed to the nearest hostel. After getting lost for a while we finally found it. In the end the rooms here were 40 RMB a person for a dormitory bed. When we got there we were forced to choose the last three beds. Becky and I elected to take the top bunks. After a brief episode involving a french girl with no pants on we headed out to get some dinner.

We walked for a while before finding a kebab man. China's best food, by far, is from Xin Jiang. Their roast lamb kebabs are amazing. We found a man, who did not look ethnically Chinese, and knew that he was the real deal. The people from Xin Jiang are Muslims of Turkish origin. Next to the man with the fiery hot kebabs was a man with fiery hot tofu. Becky ordered some, and after Jay and I tried a piece decided to get it ourselves. The man told us 5 yuan for an order. I yelled over my shoulder, '5 yuan, right Becky?' At this, she whipped her head around, stormed back and said to the man 'how can you behave like this! You sold it to me for only 2 yuan!" The vendor, completely unabashed, simply smiled and said, "ok 2 yuan." The food was all red hot, but delicious.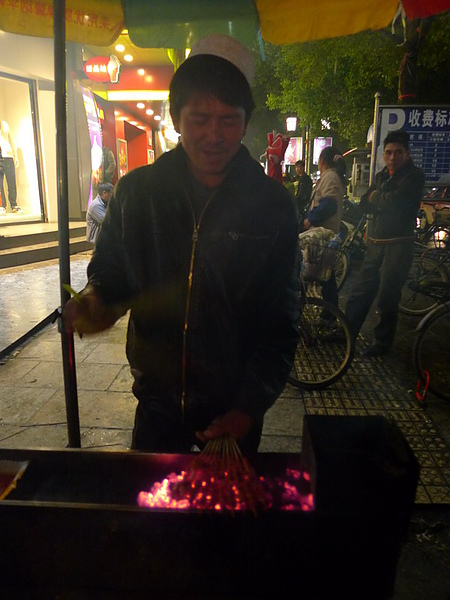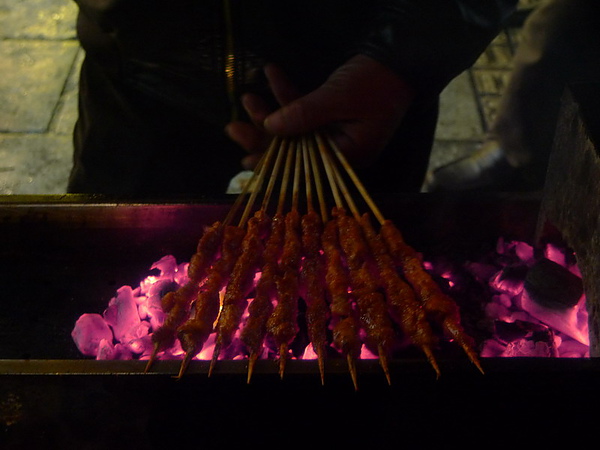 We walked around for a bit before heading back to the hostel and deciding what to do with our next day. We decided to head to the Seven Stars Park. We tucked in, and fell asleep. Apparently during the night, both Jay and the man sleeping below me snored incredibly loud. I must have been to tired to wake up, but Becky apparently heard it all. She commented the next day that another man, in the bed between the too offending snorers, was muttering expletives and pleading with them to either wake up or stop snoring. That's why dormitory beds are so cheap I guess.